Games.co.za -- from Jonathan Todd
Per Jonathan: "We have a fairly extensive section up on our website for geography games here: http://games.co.za/geography. These are fun, educational games designed to help kids study and develop their map skills."



VideoGameDesignSchools.net -- from Sara McDowell




Per Sarah:

I created videogamedesignschools.net as a resource for students to find in-depth and unbiased information about a Video Game Design degree. Currently, I think its the only site that lists every accredited video game school on the web.
Gaming innovations of the decade

12/18/09
Video Games and Impacts on Performance -- from The Futurist Update
The types of video games you play may affect your performance at school, work, or other activities, according to Wheaton College psychology professor Rolf Nelson. Playing an adrenaline-pumping action game for an hour before doing your homework or tackling a task at work could help you finish the assignment quickly--but with lots of mistakes. Playing a strategy game, on the other hand, will yield more-accurate work, but at the cost of speed, observes Nelson.
Can gaming change education? - Meris Stansbury, eSchool News -- item and quote below from Ray Schroeder
As video games continue to permeate our culture, schools and students are increasingly interested in using video games for learning. This interest has prompted universities and neurologists to explore what makes a successful educational game, what the current barriers to adoption are, and how gaming as a whole affects the brain. According to a recent paper by the Massachusetts Institute of Technology (MIT), games, when developed correctly and used appropriately, can engage players in learning that is specifically applicable to school curriculum—and teachers can leverage the learning in these games without disrupting the worlds of either "play" or school.

Professors push foreign language to the next level - Alexa Sykes, the Pendulum -- item and quote below from Ray Schroeder
Imagine having the luxury of traveling to another country and experiencing the language and culture without the hassle of purchasing a plane ticket or checking luggage. This ideal situation is now possible with Digital Game-Based Learning and is helping foreign language students at Elon University experience the countries of the languages they are studying without ever leaving their computer chairs. According to David Neville, assistant professor of German and director of language learning technologies, Elon is the only university in the entire country that has begun to integrate DGBL into its foreign language curriculum.
Five Ways to Build Your Own Educational Games [K-12]
Online Games for Teaching Business Concepts and Ideas -- from Karl Kapp, back in Oct.

Computer Games and Traditional CS Courses -- from Communications of the ACM by Kelvin Sung
Integrating computer games into existing CS courses may help attract students to the field, but there are guidelines to be considered.

11/16/09
Related post:
6 Things Video Games Can Teach Us About Web Usability -- by Mark Riggan
Colleges Offering Video Game Courses - MARA ROSE WILLIAMS, The Kansas City Star

Gaming in Technology Education
Clark, A., & Ernst, J.. (February 2009). Gaming in Technology Education. The Technology Teacher, 68(5), 21-26. Retrieved October 21, 2009, from ProQuest Education Journals. (Document ID: 1643132981).
Serious Games For Senior Executives -- from elianealhadeff.blogspot.com
Following my prior post Live From GDC: Serious Games Emerging Trends, where I highlight the presentation of Visual Purple's President, Ed Heinbockel, Visual Purple has now launched the virtual world demo that they partnered with BTS to produce. You may view the trailer comparison of the CBT (Computer-Based Training) transformation to the virtual world training simulation as well as download the demo at the landing page to Visual Purple's website (www.visualpurple.com).
35+ Educational Games and Games Resources (K-12)
Learning with Digital Games
Game-Based Learning Site for Innovative Math Educators

Quest to Learn Launches! -- from institute of play
The Institute of Play is delighted to announce the opening of Quest to Learn, the new NYC public school that uses game-inspired methods to teach both traditional and critical 21st century skills and literacies.
Going to Scale with a Digital Curriculum -- from Spotlight on Digital Media and Learning by Sasha Barab & Melissa Gresalfi
Computer games to teach youths about judiciary - Alex Dalenberg, Arizona Republic

Game and Learn: An Introduction to Educational Gaming

Microsoft's Project Natal: What does it mean for game industry? -- from CNET.com by Daniel Terdiman
Playing History

Game changer: Investing in digital play to advance children's learning and health
Turning Point for Video Games with Learning Goals? -- from MacArthur Foundation
A lot has changed since 2004, when the Games for Change conference in New York City first started. Spotlight reporter Heather Chaplin reports on G4C in 2009.

Game Design Concepts: a free class in game design, conducted over the web by blog

Online school implements game-based course -- from eSchoolNews.com
Florida Virtual School is offering students an American history course, based on an educational computer-game scenario
FLVS and 360Ed Launch Conspiracy Code – First-Ever Complete Online Game-Based High School Course



Promising Evidence for Using Immersive Games in Classrooms -- from the MacArthur Foundation
Science students make greater gains in MacArthur grantee David Birchfield and colleagues' SMALLab than in regular classrooms.


What is the difference between a game and a simulation?
Zakelro! -- from Serious Games Portal
Participatory Storytelling is the intersection of story, play, and community. Participatory storytelling is a way of looking at storytelling that acknowledges the importance of play and community. It is a critical framework for analyzing storytelling media, from traditional storytelling to video games, with an eye on its ability to include the audience in the storytelling process. It is also a goal of story as conversation, where a storyteller and her community play together in the creation of story. Participatory storytelling is also the guiding principle of Zakelro Story Studio. The roots of Zakelro's participatory storytelling theory can be found in the whitepaper, Games and Storytelling, by Corvus Elrod. Continued thoughts on the topic can be found on Corvus' blog, Man Bytes Blog.


Learning and Entertainment Evolution Forum - 2009 -- link from Serious Games Portal
LEEF 2009 will be held on June 18-19 at Harrisburg University, PA. Featured Case Studies announced:
Resources on Serious Games from seriousgamesportal.blogspot.com

Serious Games Companies

Serious Games Communities

Serious Games Blogs

Related item:
G4H 2009: Serious Gaming With HumanSim -- by Eliane Alhadeff


HumanSim : A platform for virtual patients for games and simulations -- a sponsored Session by Virtual Heroes; speaker: Randy Brown, Virtual Heroes
HumanSim is a platform for medical training and education that is under development at Cary, NC based Virtual Heroes. During this sponsored session Virtual Heroes will provide a complete breakdown of their system and how it can be used to power games that are about human physiology and virtual patients.
The Name of the Game Is Learning



Tipping Point -- link from Dan Pink's blog
Tipping Point is a cooperative puzzle game for up to four players. Players assume the roles of Project Managers, and must work together to complete projects before they go too far past their deadline. The game is won by completing a set number of projects without letting any project fail.
Dartmouth Professor Creates Recession-Inspired Video Game


Online Math Game Lets Kids Learn at Their Own Pace -- from Take an e-Learning Break
This program uses a "recommendation engine" to watch how a child plays math games and provide new content according to what's observed.The recommendation engine, patented as GuideRight technology, watches every motion the child makes while playing the game, and then adjusts on the fly to present kids with a math curriculum that is most appropriate for them. With more than 350 math activities to choose from, the game can present more than a million different paths.Check it out: http://www.dreambox.com.
Two new white papers on games in education -- from MIT; original link and quotes below from Generation Yes blog
The Society for the Advancement of Games and Simulations in Education & Training
SAGSET 2009 – 39th Annual Conference
"Coaching and Learning Through Games"
July 22nd to 24th, 2009
Leeds Metropolitan University, Leeds, Yorkshire, UK
Michigan State University's Serious Games Program
"Serious games are games with purpose beyond just providing entertainment." Examples include, but are not limited to, games for learning, games for health, and games for policy and social change. Designing effective, engaging serious games requires theoretical understanding of learning, cognition, emotion, and play. Along with great game design, serious games need content and pedagogy expertise, design research, and impact research. Our graduate program can help you gain the knowledge and experience you will need to create these sorts of games. Situated within the Telecommunication, Information Studies, & Media department at Michigan State University, the Serious Game Design track aims at the heart of serious game design, that magical region where theory and content intersect with game design. Game design for entertainment already requires diverse, multidisciplinary expertise. Serious game design calls upon vastly wider range of expertise and roles.
Building Business Acumen through Serious Games

Turning Heavy-Duty Simulators Into Serious Games -- elianealhadeff

Wii and Enhancing Learning -- link from Miguel Guhlin
Into the Game - Children & Adults Process Immersive Video Games Differently

Free Online Gaming Grows As Economy Struggles -- from WebProNews.com, by Mike Sachoff
Time spent up 42%
The usage of online gaming sites has grown 27 percent during the past year to 86 million visitors in December 2008, while the total time spent playing online games increased 42 percent, according to comScore.

Simulations and Games
Purdue Center For Serious Games Opening -- from FUTURE-MAKING SERIOUS GAMES

The Role of Play in Learning with Technology -- from ELI, by Gail Matthews-DeNatale (Simmons College) and Barbara Draude (Middle Tennessee State University)
Enspire -- Simulations and Serious Games

Sales Simulations
Becoming a better salesperson is an active process. Enspire's sales training simulation, Account Challenge™, provides an action-learning based sales training platform.

Finance Simulations
Enspire's finance simulation, Finance Challenge™, teaches financial savvy by challenging participants to apply their knowledge in an active, competitive environment where their decisions form the realities of the game.

Global Supply Chain Management
Enspire helps clients improve efficiency, quality, and throughput with the Global Supply Chain Management Simulation.
Gaming Is The Future Of Classroom Instruction -- from Eliane Alhadeff
ARGNet -- my thanks to Caleb Kuntz in the T&L Digital Studio for this link
The Alternate Reality Gaming Network is the largest and most complete news resource available for players of online collaborative Alternate Reality Games. Though more of a fan/player site, it also discusses different ideas and philosophies behind ARGs, including educational concepts.





Public Pedagogy through Video Games -- from games-based learning (UK), by James Paul Gee and Elizabeth Hayes

Saving The World Through Game Design by Dr. Jane McGonigal -- my thanks to Caleb Kuntz in the T&L Digital Studio for this link
Jane McGonigal talks with Daniel Zalewski about alternate-reality gaming. From "Stories from the Near Future," the 2008 New Yorker Conference. This is a speech/presentation "about games of all types and their place in our future".

Game-Based Learning 2009 Conference


eInstruction Unveils Mobile Teaching Device -- from FUTURE-MAKING SERIOUS GAMES blog
DENTON, Texas — Jan. 21, 2009 — eInstruction™, a premier global provider of interactive learning solutions, today unveils the release of the Interwrite Mobi System™, the industry's first multi-user, multi-tablet system. The Mobi System supports student-centered, collaborative learning for teachers to contribute along with students to the same digital content ranging from team activities to learning simulations to interactive lessons.

What can simulations borrow from video games? -- from Game Changing Idea
New Report: Online Learning Games for Employee Training-- from Brandon Hall Research, by Richard Nantel
Air Force Uses Interactive Gaming Technology for Training -- from eLearning 3.0 blog

7 things you should know about Alternate Reality Games -- from Educational Origami
The guys from Educause have released their latest addition in the Seven things you should know series. You can download the pdf version at http://www.educause.edu/ir/library/pdf/ELI7045.pdf
Great work and well worth downloading - read the brief.
DimensionM', a 3D Interactive Multi-Player Algebra Game is Spreading in 21st Century Schools -- from Lynn Marentette
Tabula Digita's 3D multi-player algebra game, DimensionM, is spreading to more middle and high schools around the country. Steven Hoy, of Tabula Digita, is working with UNC-Wilmington and educators in Pender and New Hanover counties.

Schools Got Game -- from Learning Design and Performance Improvement
This Sunday's edition of the Washington Post had a very good article on the role of serious games in schools. It mostly had a very positive spin on the role games can play in education. I don't think the article will be particularly "enlightening" to anyone that has been tracking the emergence of serious games, but it is good to see the article made the front page (granted it was the front page of the "Metro" section which is the third section...but still, it's progress; two years ago the article probably would've been buried in "Lifestyles" section).

More and More, Schools Got Game -- from the WashingtonPost.com, by Michael Alison Chandler

Lessons from Gamers -- from Benjamin Hamilton
I was struck by how the learning community can learn a lot about how to build achievement into our simulations and games.
Teaching with computer gaming: Harvard interview -- from Liberal Education Today, by Bryan Alexander
These discussion notes cover a presentation, then Q+A, with Harvard faculty member Chris Dede. Dede addresses the RiverCity game he helped design, and expounds on principles of teaching, immersion, and gaming.

Virtual Peace: academic computer game for conflict resolution

Educational Gaming Commons (EGC) -- from PSU

Items from Larry Ferlazzo
Learning about the economy through computer games -- from Bryan Alexander
Some learners are studying the current economic crisis by playing computer games, according to the Wall Street Journal. These students are teenagers, and use several different games to understand market chaos. In contrast, an item about colleges creating digital learning objects concerning the crisis in the NITLE prediction markets suggests that...

The Anatomy of a Course Designed Like a Video Game -- from Educause
Simulations vs. Computer Gaming -- from percepsys.com

Microsoft Kicks Off the Era of User-Generated Console Games -- from All Things Digital, by Dean Takahashi

Eats Shoots and Leaves Game -- link from Jane Hart
What's Wrong with Studying Video Games?

Video Gaming in the Classroom - Business Wire

Design and Implementation of Educational Games: Theoretical and Practical Perspectives -- Edited by Pavel Zemliansky and Diane Wilcox, James Madison University

Call for Chapters | Proposal Due Date: December 15, 2008 | To be Published by IGI Global


Introduction to the Subject Area
Video and computer games offer players a high degree of interactivity, and their popularity among people of different ages is unquestionable. In recent years educators took notice of this phenomenon and began integrating games into their teaching. This increased attention has resulted in the adaptation of some commercially available video and computer games for educational purposes, as well as the development of new, "education-specific" games. The use of games allows teachers and learners to simulate rich multimedia learning experiences which might otherwise not be possible. It allows learners to become immersed in "real life-like" environments while affording their teachers an opportunity to custom-create learning situations, tasks, and problems. The resulting learning and teaching processes are problem and project centered, as well as participatory. Both of these qualities are desirable for creating an active learning environment.


Purpose of the Book
The overall mission of the book is to provide a comprehensive overview of educational uses of computer and video games, covering both theoretical and practical aspects of the topic. We would like to look at educational gaming through the following lenses: rhetoric; narratology;
games as persuasive texts; educational and learning theories; games as social environments; use of gaming in professional communication and other professional training; pedagogical practices for games implementation, and so on. The publication will feature essays of 8000-10000 words, discussing various topics and issues pertaining to the theory and practice of educational gaming. We would like to receive essays which are both theoretical and practical. However, any
discussions of practice of educational game implementation, such as curricular integration or design issues, should be grounded in gaming, rhetorical, educational, or other theory.


Audience for the Book

Recommended Content Areas
We suggest the following content areas for submissions, although if contributors have other ideas, we will gladly listen:

Submission Procedure
Prospective authors are invited to submit chapter proposals of 500-600 words on or before December 15, 2008. In their proposal, prospective authors should clearly explain:

Authors will be notified of the status of their proposal and sent chapter organization guidelines by January 15, 2009. Drafts of chapters will be due by March 31, 2009. Please send inquiries or submit material electronically (Rich Text ...@jmu.edu<mailto:zemli...@jmu.edu> and wilco...@jmu.edu<mailto:wilco...@jmu.edu>


New Alliance To Research Gaming in Math and Science Education -- from Dave Nagel, The Journal
Video games have always had and probably will always have their detractors. But there's a growing movement in academia and industry recognizing the value of this medium as an educational tool both inside and outside the classroom.
Liberal arts and gaming: one campus practitioner interviewed -- from Liberal Education Today, by Bryan Alexander
A liberal arts language teacher is interviewed about using a computer game in the classroom. Dickinson College's Todd Bryant describes deploying World of Warcraft, touching on student reactions, faculty responses, pedagogical practices, and other issues. (Sound file here)

Video Game Helps Math Students Vanquish an Archfiend: Algebra -- from the NY Times
Online Video Game About Third World Poverty -- from Larry Ferlazzo's Websites of the Day
Heifer International, the widely-respected nonprofit that assists low-income people throughout the world, has just unveiled an online video game that helps players understand a bit more about Third World poverty. The game is called Heifer Village — Nepal, and you can learn about it from reading a post in the excellent blog Future Making Serious Games.



The 150 Best Online Flash Games -- from TechCult.com

New Alliance To Research Gaming in Math and Science Education -- from CampusTechnology.com, by David Nagel
Video games have always had and probably will always have their detractors. But there's a growing movement in academia and industry recognizing the value of this medium as an educational tool both inside and outside the classroom. This week, eight colleges and universities added their inertia to this movement, joining with Microsoft to launch a new alliance to study the benefits of gaming for math and science instruction and STEM equity.
Gaming to Learn • Carrollton-Farmers Branch ISD -- from David Warlick



Major New Study Shatters Stereotypes About Teens and Video Games -- from the Pew Internet & American Life Project
"The stereotype that gaming is a solitary, violent, anti-social activity just doesn't hold up. The average teen plays all different kinds of games and generally plays them with friends and family both online and offline," said Amanda Lenhart, author of a report on the survey and a Senior Research Specialist with the Pew Internet & American Life Project, which conducted the survey. "Gaming is a ubiquitous part of life for both boys and girls. For most teens, gaming runs the spectrum from blow-'em-up mayhem to building communities; from cute-and-simple to complex; from brief private sessions to hours' long interactions with masses of others."
Games are serious business for Apple -- from MSNBC.com
Should Sony and Nintendo be shaking in their boots?

"The Effectiveness of a Web-based Board Game for Teaching Undergraduate Students Information Literacy Concepts and Skills" (D-Lib article) -- from e-clippings blog
Abstract: "To teach incoming undergraduate students information literacy skills, a research team at the University of Michigan School of Information developed the Defense of Hidgeon, a web-based board game. We opted for a game in lieu of other approaches because what people are doing when they are playing good games is good learning. This article describes the game's backstory, how to navigate its 34-space game board, and special game-play features. The research team invited a class of undergraduate students to play the game, gave monetary awards to winning teams, and interviewed students about their game-play experiences to determine what they learned and obtain their suggestions for improvements to the game. The authors offer three premises for the redesign of the Defense of Hidgeon and discuss these premises with regard to the design of future information literacy games."
Video games start to shape classroom curriculum

"An alternate reality game (ARG) is an interactive narrative that uses the real world as a platform, often involving multiple media and game elements, to tell a story that may be affected by participants' ideas or actions. The form is defined by intense player involvement with a story that takes place in real-time and evolves according to participants' responses, and characters that are actively controlled by the game's designers, as opposed to being controlled by artificial intelligence as in a computer or console video game. Players interact directly with characters in the game, solve plot-based challenges and puzzles, and often work together with a community to analyze the story and coordinate real-life and online activities. ARGs generally use multimedia, such as telephones, email and mail but rely on the Internet as the central binding medium."
Full Sail University Announces New Game Design Master Degree -- from TLT CoffeeRead @ PSU
The Sims goes to the boardroom -- By Laura Vanderkam, Portfolio.com
9/9/08
The future of gaming is all in the mind -- from CNN.com > Technology Section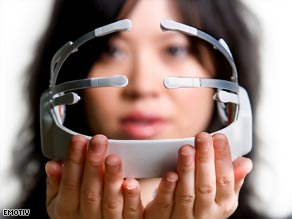 Clark Aldrich's Style Guide for Serious Games and Simulations
How the most valuable knowledge will be constructed and engaged in the era beyond Gutenberg and Google, from a designer and analyst on corporate, academic, and military projects
Immersive Games May Show the Future of Leadership -- 8/20/08, from Brandon Hall Research, by Tom Werner
In a Harvard Business School article entitled 'Leadership's Online Labs,' Byron Reeves, Thomas W. Malone, and Tony O'Driscoll observe that multi-player online games like World of Warcraft may foreshadow what leadership will look like in tomorrow's digital, virtual environment.
Handbook of Research on Effective Electronic Gaming in Education
Richard E. Ferdig, University of Florida, USA
ISBN: 978-1-59904-808-6
http://www.igi-global.com/reference/details.asp?ID=7960
Serious Games
http://flux.futurelab.org.uk/2008/07/14/serious-games/
Video Games as Learning Engines: Session Bibliography
http://davidwarlick.com/wiki/pmwiki.php/Main/VideoGamesSessionBibliography
Where Stories End and Games Begin
'Spore' creator ready for game's debut
Sim Sweatshop
http://www.simsweatshop.com/game/
Got Game? A Brief Look at Video and Computer-based Games in Education