Tuesday, April 12, 2005
Michelangelo the Inimitable?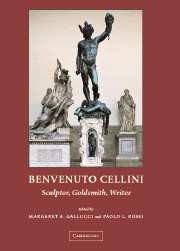 A linguistic footnote from the new book Benvenuto Cellini: Sculptor, Goldsmith, Writer, in a chapter provocatively entitled "Cellini, Michelangelo, and the Myth of Inimitability":
Acknowledged as the greatest living artist by his contemporaries, Michelangelo has continued to exert a powerful, even mythic, presence in the history of art. Part of the Michelangelo legend has been tied to a quality first introduced into his legacy by his biographer Ascanio Condivi: his inimitability.* Not to be outdone, Giorgio Vasari, whose biography of the artist in his original Vite of 1550 was criticized by Michelangelo himself, incorporated into his second edition of Vite an echo of Condivi, as he arguest that Michelangelo could not be copied in either painting or sculpture: "le cose sue ... son quasi inimmitabili."
* The footnote reads:
Condivi thus uses the word inimitabili for the first time in Italian as it pertains to a single individual. The first recorded use of the word is that of Leonardo da Vinci, who applied it to the study of painting.
Adventures in Diagramming
An ambitious English 101 student of mine took me up on a challenge to diagram the following sentence, which appeared, comma-less, in a Calvin basketball game program.
Calvin heads into tonight's game looking to build on the momentum of a 97-93 victory at Kalamazoo Saturday in which senior Ricky Shilts was one of five Calvin players to notch double-digits in scoring as he had 20 points followed by seniors Dan Aultman and Brad Sall with 18 points apiece followed by Josh Meckes with 12 points and Joel Hoekstra with 10 points.
Speaking of diagramming ...
our highest ideal
From Erin's Weird and Wonderful Word of the Day:
linguipotence
[ling-GWIP-uh-tunce]

mastery of languages or the tongue. A nonce word used once by Samuel Taylor Coleridge: "The New Testament contains not the least proof of the linguipotence of the Apostles, but the clearest proof of the contrary."
Journalists' strange obsession with salmon
One stray clip from the Schiavo case ... We journalists are often criticized for our lazy, formulaic word use. But who else but a journalist would be creative enough to mix a metaphor this way? Does any other group of writers make such prodigious use of the hyphenated participle? (From CNN's obit)
Her relatives and friends never reached a consensus on whether the Florida resident would have wanted to linger for so long in what doctors called a persistent vegetative state. However, all who knew her agree the once-bashful woman would have shunned the litigation-spawned spotlight.
First, can a spotlight be spawned? Second, is litigation literally seminal? (It's best not to think about it.) Here's M-W:
spawn: Etymology: Middle English, from Anglo-French espaundre, from Old French espandre to spread out, expand, from Latin expandere
intransitive senses
1 : to deposit spawn
2 : to produce young especially in large numbers
transitive senses
1 a : to produce or deposit (eggs)—used of an aquatic animal b : to induce (fish) to spawn c : to plant with mushroom spawn
2 : BRING FORTH, GENERATE
- spawn·er noun
to foot the bill
Michael Quinion this week in his excellent World Wide Words newsletter:
Q. Where and when did the phrase "to foot the bill" originate? [John Lanahan, Berlin]

A. It is an odd expression, isn't it? It's the kind of idiomatic
phrase that we may use regularly without any feeling that it's in
the least odd, until somebody such as yourself asks about it.

It comes from the mildly figurative sense of "foot" that refers to
the end or bottom of something, such as the foot of a ladder. In
this case, it is a verb that - for example - might once have meant
adding a postscript to the end of a letter. But our sense refers in
particular to the totting up of a column of figures, especially in
an account ledger, and adding the result to the bottom of the
column.