Current Groups
Biking
Birding
Brass Ensemble
Knitting
Memoir Writing
Dementia
If you would like to join a group(s), or start a new group, please notify the CALL office at 616-526-8777 or call@calvin.edu
Each group plans its own activities and sets the times for its meetings. The leader(s) of each group will provide notices to the CALL office about the activities of the group. These updates will be shared with the CALL membership through the website, e-news, email and the monthly CALL News.
The Biking Group
In its third consecutive season, the biking group is a group of CALL members and friends interested in moderate biking exercise. Re-established in June of 2015, those interested can join at any time and as often as they able by contacting the leader, Wilbur Zike, at wilburzike@hotmail.com or 884-5587. You are asked to let him know each time you attend so the group knows when all participants are accounted for before setting off on their next adventure and who to contact if last minute changes occur with the schedules outing. An added bonus is that stops for ice cream and such are often inculded!
Hi Group,
We will have our next ride on Wednesday, June 21, leaving at noon. We will ride the White Pine trail from Rockford to the north side of Cedar Springs, starting out at the trail access area just north of the Wolverine shoe store parking lot in Rockford.
Directions to staging area: Head north on E.Beltline-Northland-Wolverine until you reach 10 mile road in Rockford. Turn left (west) on 10 mile and go down the hill towards Rockford. Turn right (north) on Main street, proceed through town, until you reach the staging area parking lot just north of the parking lot for the shoe store. Signage is present so you shouldn't miss it. We will ride to the north side of Cedar Springs where there is an ice cream stand. Other refreshment can be found in town or back in Rockford. Total distance will be almost 15 miles but the route is very flat so everyone should be able to make it. If the are people coming into Rockford from the west, just cross the Rogue River, turn left (north) on Main St. and follow the rest of the directions.

Send a email if you plan to ride.
As per usual, all riders are required to wear a helmet. If you plan to ride, give me a return email so we can wait for you if you are late. My cell is 616-430-9657. Get your tires pumped up and we can help you unload your bike when you arrive. Any questions, give me a call or an email.
Wil Zike
In the event of inclement weather, the coordinator will contact all those on his list. The office will not have information on any changes due to weather.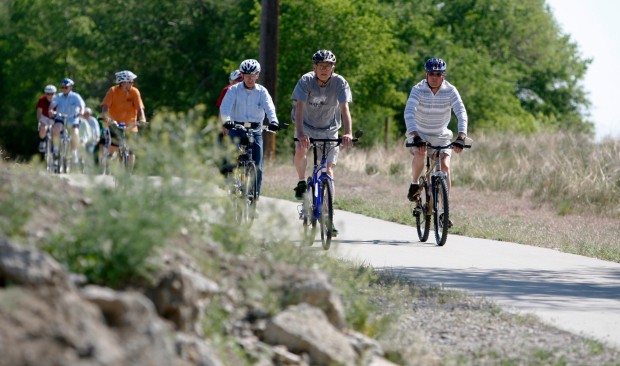 The Birding Group
Come walk the woods and enjoy God's amazing creation! Bill Sweetman leads our birding interest group again this spring 2017. He facilitates outings on the following Thursday's: April 6, 13 and 20 and May 4 and 11.
We will meet at the entrance (gatehouse) to the north parking lot on the east side of the East Beltline just north of the Bunker Interpretive Center at 8:15 weather permitting. If it is raining at meeting time we will not have an outing that day.
Outings typically last about an hour and a half, unless we go somewhere where there is significant driving time, then we may be out till about noon.
Our first couple of outings will likely be to Reed's Lake, since that is the season for migrating ducks and early songbird migrants. Later outing will be to places like Aman Park and the Middleville bike trail. In some cases we will walk up to a mile or two on well developed trails or roads.
For questions, please contact Bill at bsweettours@gmail.com.
Brass Ensemble
The ensemble rehearses in the Calvin Seminary chapel on Monday afternoons. We enjoy getting together and playing good brass octet music, and we are also interested in performing on occasion.
The CALL brass ensemble has expanded to twelve members this year. There are six trumpets, three trombones, one French horn, one baritone, and one tuba. We practice on most Monday afternoons, in the Calvin Seminary chapel, at 3:30 PM. New members are invited to come and check us out at any time.
This past spring the group played at the annual CALL meeting and luncheon, as we have for several years. In addition we played last fall at a Thanksgiving/Christmas hymn sing in Dorr, MI, sponsored by four of the churches in Dorr, and also at a Forest Hills Senior's luncheon. Occasionally we have played at a church service, the latest ones being Brookside Christian Reformed Church and First United Methodist Church.
The group enjoys getting together to play good classical music, religious music, and even some arrangements by local composers. This is a CALL Interest Group, and is open to all CALL members. If you are interested, contact Roger Griffioen, 452-3328 or rdgriffioen@att.net.
Knitting Group: Wednesdays, 1:30-3:30 PM

On October 5 we will resume meeting on Wednesdays from 1:30-3:30 every week. We meet in the Youngsma Building, second floor, south end in conference room YC216. The building is north of the Prince Conference Center and the large student parking lot that borders the east side of the East Beltline. See the map link on the CALL main website page and look for parking lot #12.
The normal schedule for this group each semester (September - December and February - May) is Wednesday afternoons from 1:30-3:30 p.m. in the Youngsma Building (north of the Nature Preserve on the east side of the East Beltline) on Calvin's campus. All levels of knitters are welcome to join. To learn more please contact the knitting leader, Diane Noorman, at dnoorman@sbcglobal.net or 942-0046.
Quotes from members of the Knitting group:
"How I have enjoyed CALL's knitting group! What a great group of gals! We share our knitting projects with one another and encourage one another in our knitting. It's a casual get together and we have lot of fun."
"The Knit group has given me a group of new friends. I have learned many new patterns. We inspire each other to advance our skills."
"Our leaders are super! They are patient, knowledgeable and fun!"
"I am fairly new to the knitting group, but am already forging new relationships with Godly women. I am going through a difficult time in my life and when I was invited to join the group it meant so much to me. Not only do I learn more about knitting, but at the same time build a community."
"I come to knitting for the company, for instruction, and just to set aside some planned knitting time."
"I like the fellowship of "like-minded" people and I meet new people. If I need help it is available. I also get new ideas for projects and yarn."
Memoir Writing
Do you like to spend time with others who like to write? Do you neglect your writing when you are not taking a class? Keep your writing life alive by sharing your work with others in this new interest group. In an informal, workshop atmosphere, there will be no assignments and all genres are welcomed The group is meeting from 1:00-3:00 on Thursdays in Hiemenga Hall, room number 468 (upstairs from normal CALL classes).
As with all our interest groups, feel free to come as you are able and contact the leader of this interest group if you plan to attend or have any questions. (A map of the campus is on the main page of our website.) The leader of memoir writing is Jim Boldenow at jim.boldenow@gmail.com or 808-1148.
SO…MY WIFE HAS (might have) DEMENTIA…NOW WHAT?
CALL Interest Group for Men
Dementia Support and Eldercare Planning
10 Wednesdays--September 14 - November 16, 2016
3:15 - 4:30 PM Wednesdays, Calvin Rehabilitation Center, 1310 East Beltline, Suite 230

A continuation of a successful men's group which met this past spring and summer. Now we're opening up a new session. This interest group focuses on dementia and related eldercare planning is sample of topics. Join us even if you have to miss a few sessions.
What can you expect regarding memory, personality, behavior, and interactions with dementia?
Do most assisted living communities offer pretty much the same levels of care?
Will Medicare cover costs of hospital stays and dementia care?
Do assisted living and memory care places get paid only with private payments?
What happens with Medicare if my wife falls? Does she quality for 100 days of rehab?
Do we only have two choices for care--keep her home and care for her, or bring her to a facility?
Did you promise your wife that you would never place her in a facility? Now what do you do?
If you transfer your assets to your kids, or a trust, you can apply for Medicaid earlier? True or False?
How can Veteran's Aid and Attendance (VA Improved Pension) help if you're a veteran?
Does moving into an assisted living facility require a long term commitment and contract?
How do I maintain my own health and stress levels while helping my wife?
How can I make life purposeful spiritually for my wife and me if we're always arguing?
How do I take away the car keys from my wife who shouldn't be driving anymore?
How do primary care doctors get involved in the diagnosis and treatment of dementia?
Who might be interested: Any husband or male caregiver of a dementia family member--whether she's been diagnosed with mild cognitive disorder, or in the intermediate or advanced stage--or, whether you're concerned she might have it and wonder about the "signs." Also . . anyone who wants to plan for the last quarter of life.
Facilitators: CALL and Crossroads Eldercare Planning Group provide top presenters for each session. Watch your CALL News for weekly updates.
Conveners: Ray Vander Weele, past CALL president, Cal VerDuin, retired Vice-President, Mazda Great Lakes, and Elizabeth Harrell, President, Crossroads Eldercare Planning Group
Fees: There are no fees to join the group, but register with Ray, Cal or Elizabeth. Group size is limited. (rvweele@comcast.net or calpatv@comcast.net, or elizabeth@crossroadseldercare.com) to sign up or ask questions.
All sessions meet Tuesdays from 3:15 - 4:30 PM in the Conference Room at the new Calvin College Rehabilitation Services Center, 1310 East Beltline, Suite 230. (NE corner of East Beltline and Lake Drive)
The Gardening Group
**This group is currently looking for a person (or a few people) to plan activities.
In the 2009-2010 year the Gardening group visited Meijer Gardens to see the butterflies and listen to a talk by Lucinda Grover. Patricia Pennell from W.M.E.A.C. visited the group to speak about native plant and rain gardens. Other meetings included a time for a plant exchange with group members and visits to member's own backyard gardens. Randy Van Dragt led the group through the Calvin Nature Center and Rebecca Shilt spoke about plants and gardens.